BlueLink Laptop, Software, & 1 yr. Sub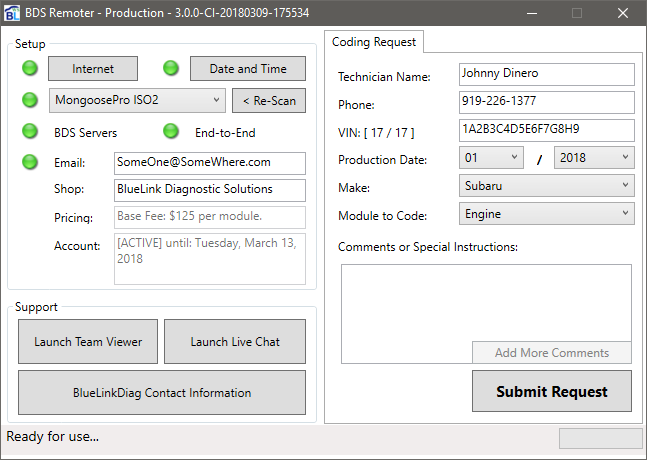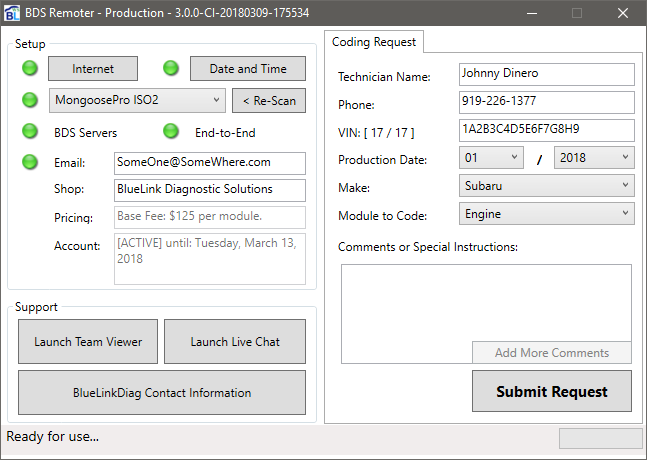 BlueLink Laptop, Software, & 1 yr. Sub
Exact specifications will vary as newer models come out, but generally all machines will include:
Intel i5-8th Gen Processor, 8GB RAM w/ 256GB SSD

13.3", 1080p, IPS Touchscreen. Compact & foldable laptop w/ Stylus.

Windows 10 w/ Home License

Hard-wire capable Ethernet USB-C Adapter & WI-FI

Unlimited PC support for annual BlueLink Subscribers

Full S/W Licenses for the Remoter, CAN Analyzer and OBD2 Tools

1 yr. Subscription to BlueLink Included

Does NOT include J2534 Device. Must own one, or be purchased separately (Like our BlueLink Mongoose)

Existing BlueLink Subscribers: Please CALL US for an additional discount! This laptop is significantly less for you as you have already purchased the software license and our annual subscription.
Get the laptop that is one of the best values for performing Remote Programming with BlueLink! With an Intel-based processor, flash memory-based storage and an Ethernet port adapter, this machine checks all the boxes of what we have always recommended, but now you can obtain directly from us!
The machine will be registered in your name, and this will be your own personal copy of Windows 10, licensed to you without any group-policy or oversight from BlueLink. The only difference here is that we will have already gone through it for you, removing unnecessary software that could hamper remote programmings, adjust Windows settings to the ones we recommend for remote programming, and of course, come pre-installed with all your favorite BlueLink apps!
And yes, it's ready for 2018's mandatory switch to the Version 3 of the BlueLink Remoter!
(We now require Windows 7-10 for programming with us)